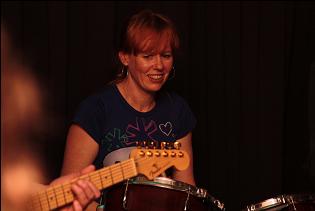 Justine has played with Space Cadets, Cones of Silence, Even As We Speak, Marzipan Nipples, The Bloodnuts and the Nick Johns Band, but says the fire-hose delivery of the Generators is what she really loves.
Career highlights, before the present, of course, were playing the Kardomah Cafe in Kings Cross supporting the Painters and Dockers (the band, not the union) with the Bloodnuts, an all red-haired band, and playing to a totally packed Petersham Inn, in Even As We Speak, supporting New Zealand cult band The Clean.
Justine's first drumkit was sold in September 1990 to raise funds to go to England. The next kit was not bought until November 2007 and after six months of hard lessons and practice, joined The Generators in May 2008. Justine is now preparing the media release for world domination tour, as during the day she is a mild mannered reporter with the local paper.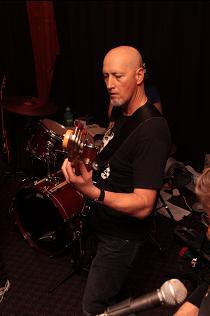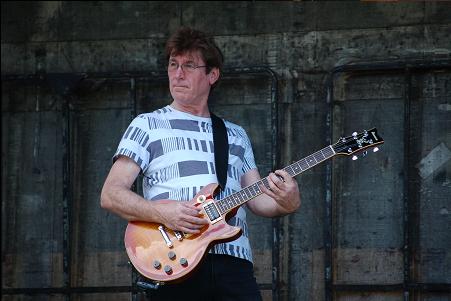 Played in a no-name school garage band 1969-1970. Mucked around in a folk trio for a year or two afterwards. Discovered the 12-string guitar and therefore did nothing for the next 10 years. Found the major and minor Pentatonic scales one night in 1982, after going down to the Crossroads (a pub near Liverpool, NSW, Oz). Learnt a few Chuck Berry riffs and has survived on them ever since. Computer analyst, former photographer, frustrated Volkswagen mechanic. Has managed to fool most of the people most of the time.
Michael has also played with Cop This!, Looking for Headlines, My Generation and The Get Wasted Band. Other than this, no-one at all known, but he has palayed "Marseilles" with someone who has played it with Doc Neeson, and "Johnny B Goode" with someone who has played it with Chuck Berry. One of his amplifiers once went on tour to Bazil.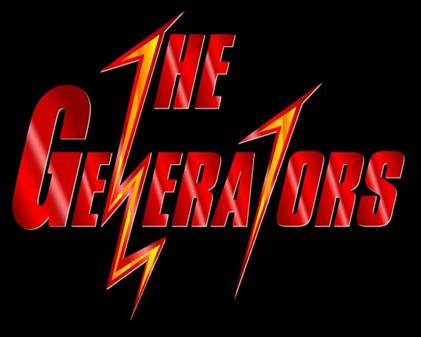 Wazza plays bass with the Generators, but has previously spent many years as a sax player. The bass is actually easier on his lips! Previously with Over the Edge, named for his penchant for disappearing over cliff-tops for entertainment, Wazza now keeps his feet planted firmly on the ground and his head some 2 meters higher.
Rick's musical career stretches back to the days of his high school rock band and teenage garage bands playing everything from Smoke on the Water to Wipeout - and let's not forget Stairway to Heaven!!!. More recently Rick has played with Shadowplay <http://www.myspace.com/lighthouseshadows> doing originals, and now does covers with us! Rick just can't keep away from music! He also dabbles in the keyboard and blues harp. Pretends to sing......Teaches guitar part time. Influences are Lennon, Dylan, all of Aussie Rock, The Who, Stones, Beatles (best band in the world to date, says Rick!) but he enjoys most styles and genres.

Mark
Mark's first solo gig at the age of 17 was at the dubiously named "Cuddles Wine Bar" in the back streets of a leafy Sydney suburb. Highly acclaimed by the crowd of four and paid in chicken wings, his future as a successful music artist seemed assured. After a number of under-attended gigs fate intervened and, incredibly, Cuddles closed down thus depriving him of both a venue to play in and a reliable source of food. The band scene beckoned.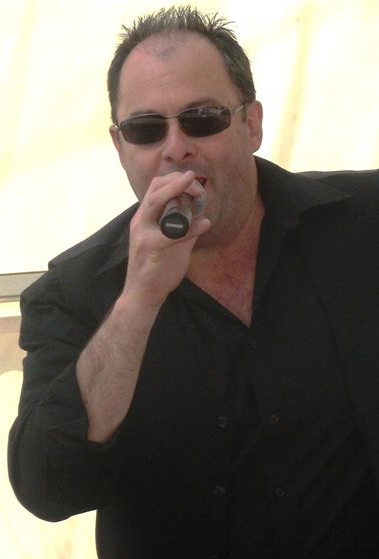 Fronting his first band at 19, Mark played extensively around alt rock venues in Sydney which such luminaries at The Rest, Torque and As Black As. Success once again failed to follow. However, with a three octave range and a willingness to endure just about anything, he found a niche in the Sydney cover band scene.
He has since sung with a number of bands in Sydney and toured regional NSW. Career highlights include a short but interesting conversation with Angry Anderson in a Canberra car park, playing with members of 70's glam rockers "Hush" and a support gig to the legendary "Goanna" at the Tathra Hotel in front of a crowd considerably larger than four!